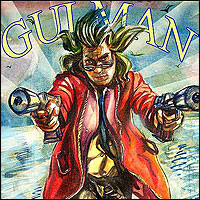 GULMAN
Gulman - the famous and fearless hero - has to go through nine large levels in 8 countries (the Netherlands, India, Italy, Greece, France, Mexico, Russia, etc...), to unravel the detective story of the loss of ancient art and antiquities, and defeat the evil boss.
In the game you will see more than 25 types of villains (custom animation), superb AI, 5 types of weapons (great shooting effects), and beautiful music written specially for this game.
The game is made from sketches and illustrations of professional artist Svyatoslav Gulyaev, and will bring you great fun!
Reach the end of the game and discover the surprise! You and your child will not regret it!
On this page you can see some screenshots of the game.