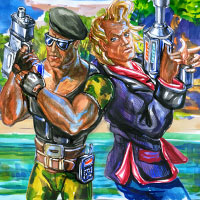 GULMAN 3 (BETA)
THE GAME IS CURRENTLY UNDER DEVELOPMENT! SO, PLEASE, PARTICIPATE IN OUR OPEN ALPHA-BETA-GAMMA TEST RIGHT NOW. IT'S ABSOLUTELY FREE, BECAUSE ONLY GREEDY PEOPLE ASK MONEY FOR BETA VERSIONS. MORE INFORMATION IS OUTLINED BELOW.
Gulman 3 is an unprecedented project in the game industry, made from scratch with our own cross-platform game engine, which is currently under development and has a huge potential.
Gulman - the fearless and brave hero - returns in a new mind captivating saga of good and evil, of demons and female beauty! This time you will be fully immersed into the game! The style is still positive, original and surprising, like with the old games, but it is not like the previous ones. We have spent couple of years making it!
You play as Gulman or any other character you've selected (and even Gulman's dog!). You can play by yourself or as a team with your friends. Over 50 playable characters (just a few in this LITE-free version). Several cities that you can reach with different means of transportation (car, motorcycle, boat, helicopter... etc., and even a horse! (Not all is available in this LITE version.)) In the initial free version you will have a reckless adventure, full of danger, which you can experience online with your friends. You will be hunting for a valuable item, hidden in a surprisingly beautiful tropical island in the middle of the ocean! (yes, we have a multiplayer mode) You will start on the coast, parted from others, and you will have to decide: who is your enemy and with whom you will unite, or maybe you will be against everybody and get the valuable item for yourself. We make this free (LITE) version available free for everyone, so that you can test whether your computer is ready for something more in the world of Gulman. And once the upgrade is ready, the game will inform you about it.
The game is made using sketches and scenario illustrations of a professional artist Svyatoslav Gulyaev, and with skill and talent of Dmitry Maluev - the lead programmer. Gulman 3 will bring you great pleasure!
OPEN BETA
This time we are making the game with you, incredible friends! Every month we plan to do one or more game updates. We will fix bugs, add new features and implement your proposals (join the Brotherhood of Gulman group).
So how do you start the game?
You've downloaded and unzipped the game and launched Gulman3.exe or XPGulman3.exe (for Windows XP). A black window appears and instantly disappears? This means that the default settings are not suitable for your system. We need to change them! The settings are stored in the file Engine.xml. How do you find it?
On Windows XP: C:\Documents and Settings\USER\Local Settings\Application Data\gulman.ru\Gulman 3\Engine.xml
On other systems: C:\Users\USER\AppData\Local\gulman.ru\Gulman 3\Engine.xml
Feel free to change these settings inside the file and try to run the game. But the easiest way is to start the ready-made template (BAT) files from the root folder: QualityLow, QualityMedium, QualityHigh_DX11, QualityUltra_DX11. This will enable low, medium, high and ultra game settings. The latter two will use DirectX 11 instead of DirectX 9.